SPECIAL OFFER March / April 2020
4 Massages in 4 Weeks for only £100
Massage once a month is essential.  Twice a month is lovely.  But FOUR TIMES A MONTH?  That's TRANSFORMATIONAL!
Experience the difference that an intense course of massage can make to your life with this amazing limited offer.
T's & C's
- This offer is only available in Herefordshire for the time period listed below
- Offer is no longer available evenings or weekends due to demand (please call for wait list)
- All massages must be taken within either Block 1 or Block 2 dates
BLOCK 1:
Monday March 9th - Friday 3rd April 2020
BLOCK 2:
Monday 13th April - Friday 8th May 2020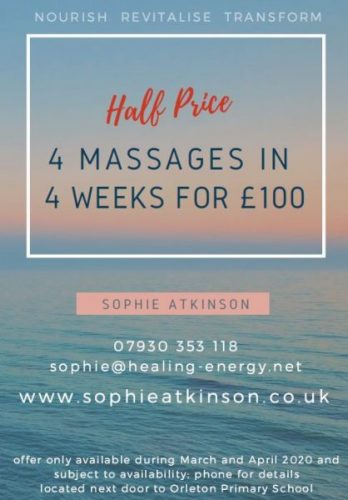 SPECIAL OFFER
£10 off your first treatment
Unable to take advantage of my 4 Massages in 4 Weeks Offer for whatever reason?
You can still get a great deal and experience a deep, powerful massage with £10 off the regular price.
Available in both London and Orleton locations.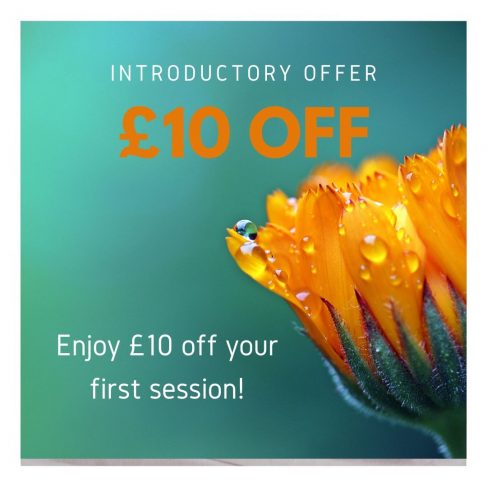 MASSAGE sessions take place in Ealing, W13 or Orleton, SY8
COACHING sessions are available on location or via phone/Skype.
DECLUTTERING sessions take place at your own home depending upon location. See decluttering  for details.
YOGA 1 - 1 sessions take place at my studio or in your own home depending upon location, For local classes please see Classes for details.
Limited number of sessions available at discounted rate for no / low waged individuals
CONTACT ME to book a treatment or discuss any of these special offers.  If you like the sound of what I offer, but can't see exactly what you want, I am open to creating a personalised package for you that best suits your needs.  I am available for massage, wellbeing talks and yoga classes in your workplace.